BENGALURU: Punishment has got more stringent for stunt riders caught in the act. They have to sign a bond of Rs 2 lakh, undertaking they will never repeat the offence.
In a first-of-its-kind move,
traffic police
recently booked 28 motorbike riders under section 107 of Criminal Procedure Code (CrPC) and made them sign a bond of Rs 2 lakh each. If any of them is
caught performing bike stunts
again, s/he will have pay the amount in a court of law, failing which they will be imprisoned for a few months.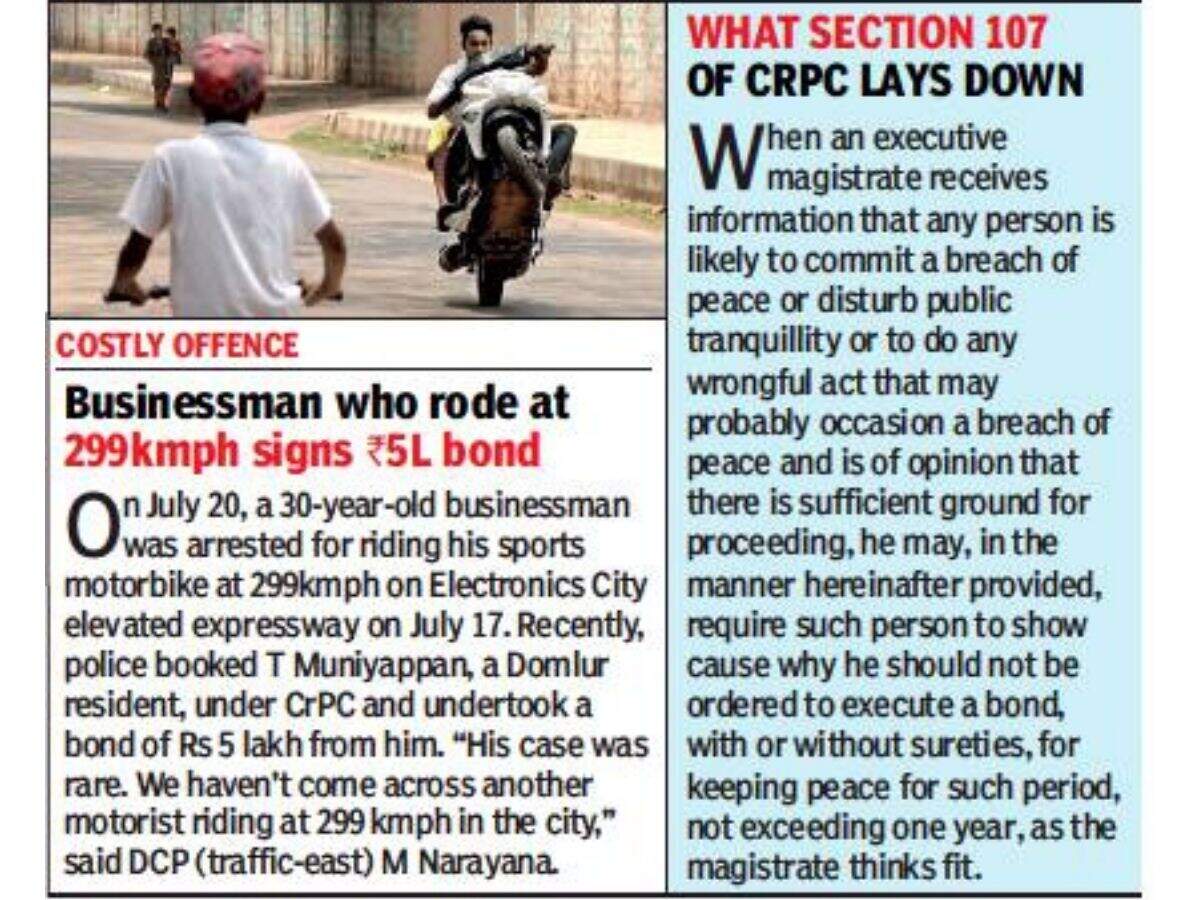 Similarly, four garage owners were booked under section 110 of CrPC for abetment, for allegedly modifying bike silencers. They too have been asked to sign a bond for the same amount.
Last week, traffic police carried out a special drive against stunt riders and booked 48 of them under IPC section 279 (rash and negligent driving) for wheelies and drag racing. Of them, 28 were found performing stunts in crowded places, risking others. "These offenders were booked under section 107 of CrPC," said joint commissioner of police (traffic) BR Ravikanthe Gowda.
"First, we book them under IPC. Then, we bring the matter to notice of the DCP (law and order) concerned, who possesses magisterial power to register another FIR against the offender under CrPC. The bond is valid for six months," he said, adding DCPs will determine the bond amount and for now it has been fixed at Rs 2 lakh.
Section 107 of CrPC provides for an executive magistrate to get a bond from any individual whom the authority fears can in any way breach public peace.
A decision in this regard was made during a meeting chaired by police commissioner Kamal Pant, who had expressed concern over continuing cases of motorbike stunts despite cases slapped against offenders. "All these days, we would seize the vehicles and recommend suspension of their driving licences. Such offenders were fined Rs 2,000 in courts. In addition to all these actions, we will now book them under section 107 of CrPC," he said.
"Notices issued to garage owners were for abetting violations that fall under section 107 of CrPC. One such garage owner from Banashankari appeared before police on Monday and signed a Rs 2 lakh bond, undertaking he will not modify silencers in future, " said a traffic police officer.
Bizman who rode at 299 kmph signs Rs 5L bond
On July 20 this year, a 30-year-old businessman was arrested for riding his sports motorbike at 299kmph on Electronics City elevated expressway on July 17. Recently, police booked T Muniyappan, a Domlur resident, under CrPC and undertook a bond of Rs 5 lakh from him. "His case was rare. We haven't come across another motorist riding at 299 kmph in Bengaluru," said DCP (traffic-east) M Narayana.
What CrPC section 107 says
When an executive magistrate receives information that any person is likely to commit a breach of peace or disturb public tranquillity or to do any wrongful act that may probably occasion a breach of peace and is of opinion that there is sufficient ground for proceeding, he may, in the manner hereinafter provided, require such person to show cause why he should not be ordered to execute a bond, with or without sureties, for keeping peace for such period, not exceeding one year, as the magistrate thinks fit.