BENGALURU: Sexual harassment of women on public transport in cities across India dipped sharply, while the fall was marginal at the workplace, National Crime Records Bureau (NCRB) data for 2019 revealed.
As per the statistics, in 2018, 153 women in different cities filed police complaints about being subjected to sexual harassment on public transport. In 2019, the number dropped to 50. Bengaluru, which did not figure on the list of five cities with most such cases in 2018, was fifth in 2019. But the city reported three cases each in both years. Lucknow which reported most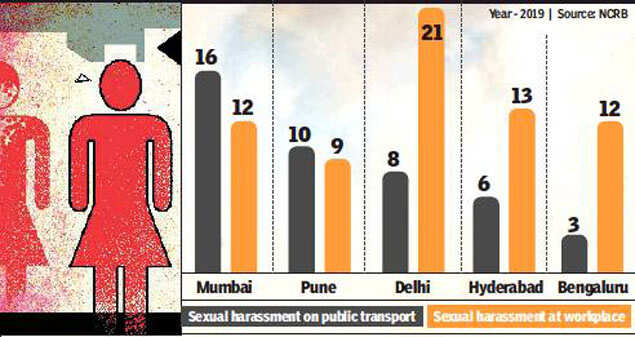 cases of sexual harassment on public transport in 2018, ceded the place to Mumbai the next year and did not even figure among the top five cities under this head.
In 2018, 88 women were subjected to sexual harassment at the workplace across the country and the number fell to 84 in 2019, shows NCRB data. During both years, Delhi reported the highest number of instances — 28 in 2018 and 21 in 2019. Mumbai reported the third highest cases in 2018 at 12 and shared the position the next year with Bengaluru.
Unlike the national trend, Bengaluru reported a sharp fall in cases of sexual harassment at the workplace: 20 in 2018 to 12 in 2019 (40%). The city reported the second highest such cases in the country in 2018, before slipping to the third position in 2019.
Officials and advocates feel media glare on sexual harassment at workplace and public transport is a deterrent for potential culprits.
They point out that an American multinational technology company had removed 48 staffers between 2016 and 2018 for sexually harassing colleagues across the world and such developments are reported widely in conventional and social media. Organised private sector has taken the lead in cracking down on sexual harassment at the workplace. The Me-Too movement too went a long way in building public mood against sexual harassment, they explain.
Bengaluru-based advocate Vidyashree KS told TOI the crux of the issue — mindset of men — still needs to be addressed. "Unless one's mindset is free from all unwanted thoughts, such issues cannot die down completely. A working woman returning home at midnight nurses the same fears she did a decade earlier," she said.
IPS officer Rohini Katoch-Sepat, currently serving as SP, CID and formerly a DCP in Bengaluru, said more the awareness, the fewer the cases. "Nothing will change overnight. Change is happening but on a slow note. In addition to being aware of their rights, women now know how to act and pursue the matter to a logical end," she said.
Another police officer said that decline in cases of sexual harassment on public transport is largely due to the ubiquitous smartphone with video-shooting ability. "Miscreants know that everyone carries a mobile phone and whenever something unpleasant happens, people around are quick to take pictures and videos. Within no time, police will be on their trail or they will be shamed on social media. This is one reason why miscreants hesitate to target women on public transport," he said.