BENGALURU: Nearly 880
infrastructure projects in Karnataka
missed their completion deadlines, which led to cumulative cost overrun of Rs 96.5 crore, the
Comptroller and Auditor General
(CAG) has said in its latest report on the state's finances.
The findings confirm successive governments' failure to execute public works in the original time frame.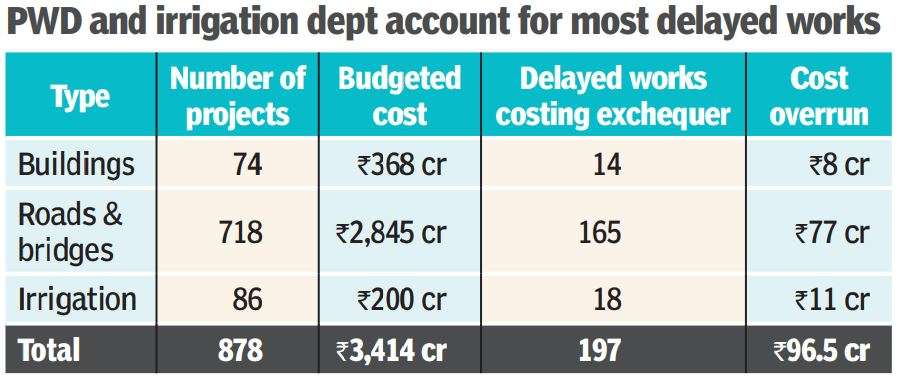 According to the report, 878 infrastructure projects worth Rs 3,414 crore remained incomplete as on March 31, 2019. At least eight projects were delayed by more than five years and 317 projects by one to five years. Another 553 had overshot deadlines by less than a year. The pending projects are primarily from the public works department (PWD). Most of them involved construction of roads and bridges.
The PWD and irrigation department did not respond to CAG's demand for explanations as to why the works dragged on. "No reasons for the delay in completion of the works was given by the departments," the national auditor said. To minimise escalation of time and cost, the fiscal management review committee, or FMRC, had suggested in 2018 that projects nearing completion should be given funds on priority. "However, the audit noticed that the number of incomplete projects increased from 236 on March 31, 2018, to 878 on March 31, 2019. This indicated that no steps were initiated as per the advice of the FMRC," the CAG report states.
It noted that in 14 projects, which were supposed to be completed in the period from July 2013 to December 2016, "physical progress" in work was between 10 per cent to 60 per cent. This suggested a need to undertake and complete works on a "priority basis".
In March this year, the finance department, in a reply to CAG, claimed that detailed guidelines were issued in April 2013 regarding execution of works. They stated that all departments should strictly follow deadlines for obtaining administrative approvals and budget allocation and implementing projects.